This week's how-to is so simple, I'm almost embarassed to post it—but they're so pretty, I just have to throw the idea out there: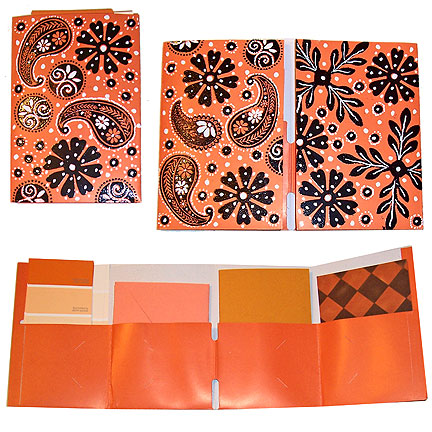 Wondering what the heck these are? They're folded pocket books, made from paper school folders. Livia waved her version of this idea at me about a year ago, and it took me that long to come up with a variation that looked different enough that I felt good about posting it. Here are the oh, so simple instructions:
Start with these. They're paper two-pocket folders that kids use at school. I found mine at Wal-Mart for less than a dollar each. Get the cheapo ones that are lightweight and not very shiny if you want to collage or stamp on them, or you can fork out the whole dollar for folders that are already decorated, shiny and slightly heavier. These folders come in two styles: some have just pockets, and some have pockets plus a little three-hold brad tab for holding notebook paper. I bought a handful of each.

Livia's folder was done full-sized, which made a tall, skinny book. I wanted something a little shorter. Since the fronts of my folders had a little embossed rectangle where a nametag is supposed to go, I decided to chop them off just below the embossing to get rid of it. That removed the top brad from the folder designed to hold notebook paper, but since there are two left, that's OK. Cut your folders any height you wish.

Next, a little folding. Just fold the outside edges inward toward the center. I folded mine just short of the center, to allow them to close nicely.

That's about it. Decorate and fill. I used the bandana effect described in a previous article to decorate mine, and filled them with papers cut to size, paint chips, envelopes, whatever.
I told you they were embarassingly simple!