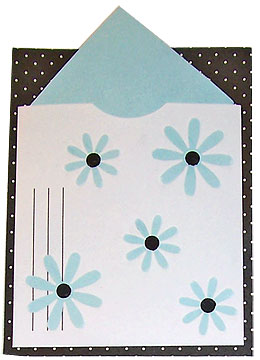 Even though I do all my banking and bill paying online, I still seem to receive a lot of generic white business envelopes in the mail. I decided to save them for a month, and ended up with two dozen perfectly usable envelopes of various sizes.
There have been quite a few popular articles about what folks do to recyle their business envelopes in crafty ways. One good idea has been to gently open them up, turn them inside out, and use them as either blank envelopes, or in the case of security envelopes, patterned ones. Another one is to use them as papers for making paper beads.
My first idea on using up those extra envelopes is to turn them into pockets, and use them on cards and in altered books. Here's how I made the two samples on this page:

First, I dug through my pile of envelopes, and found a couple that were mostly plain on one side, rather than printed with address info and advertising slogans. The two I chose just had some lines where the return would go, which I'll incorporate int my design.

I licked the back flap, and glued the envelope closed.

Using my paper trimmer, I cut the envelope short enough to fit on my card front. This also removed the clear window on the front of the envelope. You might prefer to use this section for a pocket with a window in it.

I used a very large round hole punch to cut a curve in the top front edge of the new pocket. This will make it easy to open it up and put things into it when it's glued down.

On one sample, I decided to do a little stamping. I did this in black, to match the return address lines. On the other, I simply glued some flowers punched from colored paper. I might also have done a little collage work on the pocket to hide any printing on it.

Once the design is finished, the pocket can be glued onto a card front, or into an altered book.

Here's the stamped sample, filled with a blue index card, a paint chip, and a library checkout card.