I often suggest types of scissors and other cutting tools when I write the articles for this site. I thought it might be a good idea to show you the tools I have in my work room right now, and talk about how I use them.
Cutters I Can't Live Without: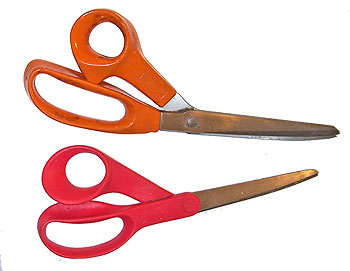 The common name for this type of scissor is bent trimmers. I have an infinite number of these, ranging from the ultra-cheap discount store shears to very expensive models from Gingher which rarely leave their boxes. One pair of these just won't do, because you can't cut fabric with the same bent trimmers you've just used to cut gluey paper.
Use the cheap ones for rough cutting papers, and cutting through items wet with glues and mediums.
Use better ones from Fiskars (the folks who make the scissors with the orange handles) for cutting lightweight metal, and tapes. Many Fiskars scissor blades are coated with Teflon, which repels sticky things.
Use well-made scissors with very sharp blades for cutting fabrics. I have two pairs of Gingher bent trimmers than live in their original boxes. They never touch paper, wire, tape or glue—just fabrics. I also have the Gingher sharpening stone, to keep them sharp. There's no point owning good scissors if you never sharpen them!

Whenever I talk about cutting things with sharp detail scissors, I'm using these to cut. These are tailor's points from Gingher. They're small, and extremely pointy, which makes it easy to maneuver around very detailed shapes. There are many small, pointy scissors on the market made for detail cutting. To choose one you'll love, be sure to slip them on and do a dozen or so cutting motions—if they hurt your hand, keep looking.

These are inexpensive craft knifes. I buy these at the dollar store. They come with a strip of snap-off blades already loaded. When a blade gets dull, just snap it off, and a fresh one is ready to go. Fresh, sharp blades are important—it's way too easy to cut yourself with a blade that's dull, and I have the scar across my left index finger to prove it.
I should probably mention that these inexpensive knifes are fine for cutting lightweight things like paper, but not ideal for heavier things like home improvement projects. I also have the industrial, hardware store versions of these knifes out in my garage tool chest for cutting things like sheet rock. They have heavy, metal handles that are textured, to keep the knife from breaking while in use.

I can't cut a straight line with scissors to save my life, so I do most of my big paper cuts with a paper trimmer. This Personal Paper Trimmer from Fiskars has been with me for about five years. It's big enough to cut 12×12 scrapbook papers, but small and light enough to tuck in my tote when I go to local mixed media group gatherings. I keep a steady stock of replacement blades on hand, because when the blades get dull, the cuts look like my dog chewed them.

Other Cutting Tools in My Arsenal:
These are decorative scissors, available wherever scrapbook supplies are sold. I don't have many of these, because I've given away all but the pairs I use most: deckle edges, and postage stamp edges. I've tried cheap, expensive, and everything in between—there's no real difference. They really can't be sharpened easily, but on the plus side, they don't get the wear and tear of regular scissors, so they last longer.

These are leather shears, which I use for cutting very heavy, thick materials. Notice how the pivot point is shifted forward a bit? This gives amazing leverage, so gliding through heavy leather or boards is much easier on the hands. These aren't for everyone—I think I paid $80 for them twenty years ago, but they've lasted me that long, so they were worth the investment.

Cutting mats and rotary cutters are good for cutting fabrics. I often use the mat with a craft knife to cut through multiple layers. I just have a small mat right now, which I flip up onto the work table when I need it. When I was quilting a lot, I had a larger mat with much clearer cutting lines on it.

I suppose all crafty types must own at least one Xacto knife. This is mine. I don't use it much. I don't love it. However, I also have an Xacto hand saw blade and handle, which I do love very much for small, quick cutting.