Originally published on January 13, 2005. Updated on June 28, 2008.
I'm exhausted by the amount of time paper artists spend discussing glue! You can barely go through a day on many of the altered art lists without someone asking a glue question.
Here's the deal: you don't need every glue that comes out on the market. In fact, you just need a handful of glues. And yes, like all paper artists, I have very specific glues in mind. Here's what I have in my glue and adhesive arsenal today: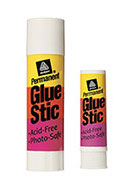 Glue Sticks
There are about three million different glue sticks on the market right now. How's a girl supposed to choose just one? For me, the solution is to ignore all the hype, and pay attention to how I use the product. I slather glue on pretty liberally when I use a glue stick (see this video for a demonstration of my fine glue stick application technique), so whatever I use, I need a lot of it. I swear by the six packs of glue sticks at Office Depot, but now that I'm on the Staples super-primo customer list and they ship things to me for free, I've switched to Avery. That's right—not UHU, not some fancy brand being marketed to paper artists, but just plain old generic school kid glue sticks. To me, they all work the same. Some people swear by certain brands—in general, there's not much difference (although I now avoid the really cheap glue sticks in the green package available at Wal-Mart, because the texture is just nasty). Some folks like the glues that go on colored, and turn clear when they dry. Those just freak me out—I hate seeing purple splotches all over the place when I'm working.
What I use them for: paper to paper; fabric to paper (apply glue to paper, and press fabric onto glue—then quit handling it until it's dry, or you'll make a mess); paper to metal (apply liberally to metal, then smooth paper on).

Tacky Glue
This is the stuff in the gold plastic squeeze bottle with the white tip. Don't bother with other white glues, because they're either too watery, or too thick. This stuff is a little thick, but not so much that it's impossible to squeeze it out of the bottle. Don't buy the biggest bottle, because by the time you get down to the bottom of it, it takes about three years for the glue to ooze on down to the tip. Apply a really thin coat by squeezing out a blob, and using an old credit or gift card to like a squeegee to spread it.
What I use it for: gluing page blocks in altered books; gluing on lightweight dimensional embellishments.

Weldbond
This glue is usually found in hardware stores—I bought my last bottle at Home Depot, although I think they stopped carrying it. I think it's still available at Ace Hardware, and now it's starting to sneak into craft stores as well. Weldbond is touted as a universal glue—something that will glue anything to anything. It dries clear, and though it does require some clamping, it's great for industrial strength gluing.
What I use it for: heavy embellishments, wood.

E6000
In general, I avoid solvent-based glues like the plague, because I need all the brain cells I have left to remain intact—I have no extras to spare. However, there are times when only a solvent glue will do. E6000 is my nasty smelling, brain cell killing glue of choice.
What I use it for: metal and other heavy embellishments.

Liquid Nails
Liquid Nails is found at most hardware stores. It's an ultra-butch construction adhesive. It's messy, gets all over the place, and is a completely inconvenient buff color when dry—but for sticking two pieces of metal together forever, there's nothing better.
What I use it for: metal to metal, permanently.

---
Other glues and adhesives hanging around my workroom:
Double-sided foam tape and foam dots
I use these for items that will be photographed for publication. Most cameras tend to flatten collage work. I separate my layers with foam dots, so when they're photographed, they look deeper and more dimensional. I also use foam dots as the default glue for attaching flattened bottle caps to any surface—they're just about the right height to fit inside the cap.
What I use it for: photographic effects, bottle caps.

Double-sided non-permanent tape
I buy Scotch non-permanent tape in the yellow container at either Wal-Mart or Target, but I think it's available at most places that carry office products. This really is a great tool for folks who like to slide foreign objects through their printers. You can attach a piece of thin tracing paper or tissue to regular paper with this tape, print something on it, and then lift it right off. It's also good for positioning elements before you nail them down with permanent adhesive.
What I use it for: printing, temporary placement.

Diamond Glaze
I know some people like to use Diamond Glaze as a glue. I don't. It's too runny for my taste, and I always end up with ripples. However, it does make a wickedly light, glossy glaze—and I use it that way often.
What I use it for: glaze.

Gel medium
Likewise, some people use gel medium for glue. It's ridiculously expensive, and I've found it hard to make paper lay flat with it, no matter how wet or dry I work. However, I do use it when I collage, ripples and all.
What I use it for: rippled collages.

Xyron
I went through a Xyron phase, where I used it for everything. Now, not so much. I don't like the way it leaves snot around every glued piece that has to be cleaned off, and it's too freaking expensive.
What I use it for: attaching mounting foam to rubber stamps, some photo mounting.

Spray adhesive
Although I do own this, I only use it when hell freezes over, or when I absolutely have no alternative. (Recently, I used it to make a display board for a trade show presentation—there just wasn't any other glue available that would stick large pieces of paper to foam core quickly.) I generally end up spraying myself, my floor, and part of my work space, and cursing loudly as I stick and restick my gluey pieces down.
What I use it for: to torture myself.

Gorilla Glue
This is a hardware store glue that's trying to break into the craft market. I hate it! It's very thin and runny, tinted amber, and stains hands, clothing and whatever surfaces it touches. I'm sure it's a perfectly lovely wood glue—but why would I use something that's tinted when there are so many glues that dry relatively clear? Bleh.
What I use it for: absolutely nothing.

---

Although somewhat out of date in terms of the products listed, This to That is a good site to visit for information on what glues are suitable for what purpose.