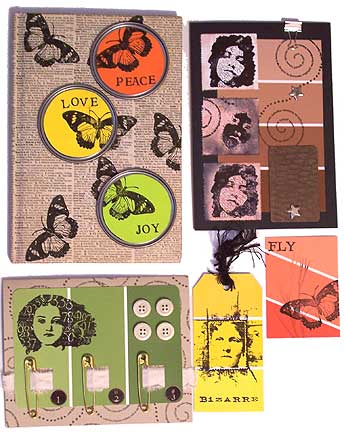 I'm often asked where I get the ideas for my articles. I wander about the Internet aimlessly in my spare time, and often I'll see the same topics being discussed in several different communities, with the same questions being asked. That's exactly how this article came about: two threads, one on the Altered Books list, and the other at Nervousness, both asking about what to do with paint chips.
Paint chips, in case you're wondering, are those lovely free sample strips they have racked up by the bazillions at virtually every home improvement center, hardware store, and super-center. Each store has different brands, and so has different paint samples, which makes the hunt for paint chips even more interesting—you can go to three or four places, and find totally different sizes and shapes. They also obviously come in just about every color you can possibly think of, and with faux finishing so popular right now, they also sometimes come in fun textures. Look around at the stores near you, and see what you can find.
All of the projects shown at right use paint samples somewhere. Some of them are pretty easy to spot, and others take a second look. Below, I'll try to give you a rundown of where I found each sample size and shape, and how I've adjusted them. For the most part, I score my hardware store freebies at Home Depot, Lowes and Wal-Mart, usually in that order. Since Home Depot is right around the corner from me, and since they've been total butt-heads about the stuff I've ordered for my going-on-five-year home renovation, I feel it's my duty to loot them every time I'm in there—by now, they owe me a couple of truckloads of samples at least.

These three color, three hole paint samples come from Lowes. They're not racked so you can see the holes, so you might have to hunt for them—look for a display that says American Tradition. I guess the theory is that the holes will allow you to see contrasting paint colors, so you can match your coordinates. My first impulse when I pulled one out of the rack was to weave something through the holes. Ribbon, fabric—something has to go there. They'd also look great of they were applied on the front of a card using foam squares, to give them a bit of a lift. The three squares would act as little niches.
Notice the lovely Staedtler Mars plastic eraser? Here's a tip: you can erase the printing right off the front of most paint chips. Some of them take more elbow grease than I'm willing to apply—we'll talk about those in a little bit. Most of them give it right up. The erasing can cause a little smudge mark on the chip. Learn to love it, or put something semi-transparent over it. I never notice the smudges when I'm done.
At right, a card made from the very same green holey paint chip, using stamps from Tascha Luther in Germany. (Thanks to Christina for sending me this link.)
What to do with long, narrow paint chips: turn them into tags. This is a Glidden strip—this brand of paint is available everywhere. Their strips usually come with anywhere from three to six colors on them, depending on where you shop. My easy way of turning chips into tags: erase text, trace around a shipping tag, cut, punch and decorate. Don't feel you have to cut the tag off at any particular length—you can cut it the size of the original tag, or use one of the white guidelines as a cut line. You can even use the entire chip as the tag, simply by tracing the top cuts on either side, and placing the hole in the center. Or, use small tags, and cut them across the chip—you'll end up with a nice gradiation of tags. Experiment—after all, they're free! By the way, Glidden tags are some of the easiest to erase. These stamps are from PaperArtsy.
Another cool thing to do with tall, skinny paint samples is cut them into strips. These can be used as borders, frames, accent strips, or even woven together. These strips are about half an inch wide, and when I ran into printing, I stopped cutting—I'll just grab another one, and save myself the erasing time.

These little squares with rounded corners are by Behr, carried by Home Depot. Behr has some seriously tough printing, so if you want it off, be prepared to work at it. These squares are good to use as tags—simply shoot a hole in one corner and decorate. They're also great for filling the centers of juice lids. I like the colors and texture much better than plain cardstock, and they just look snappier. The journal above was in Altered Books 104 by Design Originals, and I simply cut the chips into circles, stamped them, and then glued them to juice lids.
Here's the world's fastest little book, made from big Behr paint chips from Home Depot. I love these sample cards—they're a great size, and can be used for all sorts of cool stuff. Here, I just erased the printing, punched holes, and filled them with split rings. If I was very particular, I probably would have backed each chip with a piece of solid paper, since there's all sorts of printing on the back side—but this is just a deco, and the girls receiving it will know to simply sign their names on the back sides and move along. At some point, I'll decorate the cover of this, and also probably add a paint chip tag on the top split ring. Not today.
Another card, made with one of the big Behr paint samples. Here, instead of messing with the printing, I simply trimmed the edges of the sample away, squaring off the corners. A little stamping, some faux stamps, and a Formica sample (also from Home Depot), and I have a quick and easy card. Stamps by Tascha again.

One last thing you can do with paint chips: turn them into artist trading cards. I'm showing this on one of the big Behr chips so you can see how to cut to get stripes on the diagonal. Just cut one edge on the diagonal, and then cut square from there, and you'll end up with a lovely card. Smaller chips can be cut slightly crooked rather than straight on, just to add some interest. The surface of these takes dye ink beautifully, and they also make a great collage surface. Once again, if I'm very picky, I'll back the card with a solid to cover the printing—but sometimes, it's fun to just leave it to show what it used to be.
Now, don't you wish you had some paint samples right now? Grab a handful next time you're out.