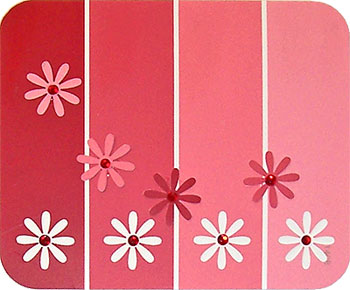 I love playing with paint chips. I did a previous article using paint chips that were stamped with black ink. This time around, I'm punching them with some of the many flower punches I have, because if I'm going to pay a bazillion dollars for a punch, I probably don't have any money leftover to buy fun papers!
Here's how I made the cards shown above and below:
I started with one of the large Behr paint chips from Home Depot. They're large enough to make a nice-sized card front.
I removed the print from the card using a white Staedtler Mars plastic eraser. The printing on most paint chips can be rubbed away with this eraser, leaving nothing but a slightly duller spot behind.

Punch shapes from each colored section. I did most of my punching in a straight line, but there's no reason it couldn't be random.

Fold a piece od cardstock in half to create a card. I chose white, to sort of coordinate with the white stripes of the paint chips.

Apply glue to the back side of the punched paint chip, and press it onto the folded cardstock, applying the edge of the chip along the fold.

Trim around the unfolded sides to remove the extra cardstock. Save the extra pieces to make ATC backs!

Apply dots of glue to the backs of the punched shapes, and arrange them on the card front. My shapes were fairly delicate, so I used a bamboo skewer to apply dots of Tacky glue to the backs.

I glued a tiny acrylic rhinestone to the center of each flower.

Here's the result:

If you don't have access to those big paint chips, you can still use this idea. Above is a card made with a long, narrow strip. I cut off the last, darkest color to make the strip fit onto the front of a white folded card. Then I punched flowers from all four colors.
At left is a long, narrow strip, punched with a very small flower punch. This might make a nice bookmark, or a very long tag or border.