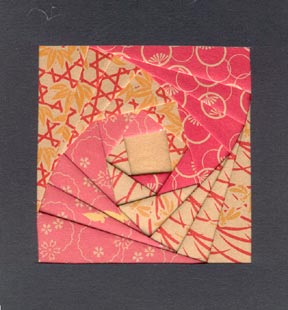 Here's what you'll need to make the example at left:
Origami paper – 1 sheet each of 4 different prints
Brown craft paper – a small piece for the iris
Paper trimmer – I use the Fiskars 12″ personal trimmer
Pattern – print the pattern shown below
Transparent tape
Cardstock – 1 sheet for aperture
Scissors
How to make it:
Using paper trimmer, cut origami paper into 1-1/2″ strips.
Fold strips in half lengthwise, creating 3/4″ strips with one folded edge. Assemble strips into bundles of A, B, C and D papers, one bundle for each design. Set strips aside for the moment.
Print pattern above. The easiest way to do this is to save it to your local drive, and then print it from any graphics software. The pattern is for a roughly 3-1/2″ square, but you can resize it to any measurement you wish.
Cut pattern out around outer edge. Position pattern where desired on cardstock and trace around outer edge. Create an opening in the cardstock by cutting away traced shape. This will be your aperture.
Turn cardstock over. You will be working on the wrong side of the cardstock to create your design. Position pattern in aperture, and lightly tape both pattern and cardstock to work table.
Lay out your folded papers in piles of A, B, C and D. It's very important that you keep your letters straight!
Start working your pattern with section 1A. Place the folded edge of the paper A against the 1A line closest to the center of the aperture, covering section 1A completely. Tape in in place, and trim excess length away. Do the same thing with section 2B, using paper B. Continue around the circle, alternating the four papers, taping each one in place.
When all sections have been covered with papers, your design is almost complete. Cover the last open section in the center with the small piece of craft paper reserved for the iris. Make sure all your pieces are taped in place firmly.
Gently remove the card stock from the work table and turn it over to reveal your finished iris.

Tips:

Lightweight papers such as origami paper give the most satisfying results in iris folding. Try to avoid heavier scrapbooking papers or cardstock for your folds.
I generally cut my cardstock piece a little large, work my design, and then trim it down to size.
Iris folds make great card fronts. Fold a piece of cardstock in half and mount the finished iris design on the card to create a finished back for your design.