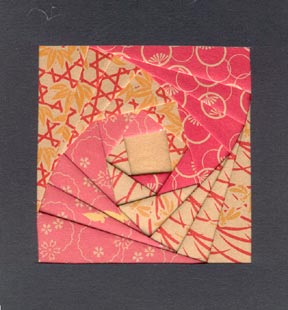 Iris folding is a technique that originated in Holland. Color coordinated strips of folded paper are taped into place over a pattern, creating a spiralling design that resembles the iris of an eye or camera. Originally, Dutch crafters would cut their strips from envelopes with patterned interiors, but now it is common to use lightweight papers including those used for origami to create iris folded designs.
The basic supplies you need to get started are minimal, and mostly made up of items paper crafters have in their stash: cardstock, lightweight papers, a paper trimmer or ruler, scissors, tape, and a pattern.
Want to give iris folding a try? Click here for the pattern and instructions for the simple design shown on this page.