One of my favorite shapes in little handmade books and decos is the hand. There's just something fun about making a hand book—even the name is a play on words. The shape is simple and familiar, yet it seems to provide endless possibilities when it comes to decorating.
Here are some of the hand shaped books I've made:
This is my very first hand deco, made sometime in 2002. I scanned my own hand and printed it on a color printer, then chalked it a bit to enhance the color. I glued the hand print to a piece of cardstock, and after I cut it out, used it as the template for my pages. I punched two holes through the wrist section of all the pieces, and threaded a piece of ribbon through to bind them together. Here's the really wild part: the eye is a blinking doll's eye set into the palm section of the cover, and partially covered with a second print of my hand scan, to create a smooth bridge between the eye and my palm. Other embellishments are stamped and colored with markers. The text was printed on acetate and glued in place with gel medium. This is one deco I sent off knowing that it would probably never come home—I tend to lose strange designs like this one fairly regularly. So far, it hasn't reappeared.

This booklet started with a tracing of my hand on cardstock. I cut six pieces, punched two holes at the wrist, and attached them with brads—instant deco! The decorating is direct to paper ink, with layers of stamping over the top. Little gold trinkets filled in the empty spaces nicely. I made this deco in 2003, and it has already returned home filled with artwork. (A big thank-you to the members of ARTdecos for their contributions.)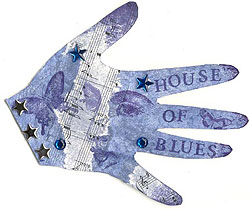 Periodically, I'll throw a hand deco into a themed swap. This was for a House of Blues swap, so I simply decorated in blues to go along with the theme, and also worked in some music papers. The booklet started with a tracing of my hand, same as the previous one—notice the different effect achieved just by spreading the fingers slightly. Three holes in the wrist, and star shaped brads hold the booklet together.

This deco is made from some small hand-shaped die cuts I found at a teacher supply store. I simply used a strip of tracing paper at the wrist to hinge each hand to the one next to it, knowing that the artists who work in it later will cover that tracing paper.


Ready to try your own hand book? You can either trace your own hand to use as a pattern, or try this printable sheet of hand shapes in assorted sizes.