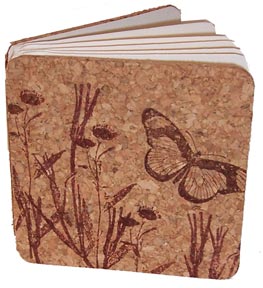 Yesterday, while I was shopping at Hobby Lobby, a package of cork coasters caught my eye. Six 1/8 x 3-7/8″ square coasters in a pack for two bucks looked like a good deal to me—and also looked like the covers for three small books.
Cork is a terrific material for mixed media artists. It can be rubber stamped with all but the most detailed designs, and it accepts dye inks beautifully. It's also a good background material for collage—much more interesting than those papers that only offer a picture of a piece of cork.
To make this book, you'll need:
Two cork coasters
Two sheets of cardstock
A glue stick
A ruler
Rubber stamps and ink – I used brown dye ink
Scissors
I started by backing the cork coasters with some cardstock. I did this both for durability and for aesthetic reasons—I knew the spine would be glued to the inside covers, and that it was white, so it would drive me nuts to open the book and see cork with a stripe of white. Better to have the whole inside cover white.
While I was at it, I also cut my interior pages. I traced around the coaster and cut out five pieces.

Next, I worked on the spine. I cut a strip of paper the same height as my coasters, and the width of my paper. Then I folded it into an accordian using my ruler. I'm too lazy to measure and mark each section, so I just line my clear quilting ruler up 1/2″ from the short edge, and fold against the side of the ruler—then flip the spine, line up the ruler again, and fold. It's not perfection, but it's pretty close.
I folded enough accordian for five interior pages, plus tabs for my front and back cover, and trimmed off the excess.

Now, to decorate the front cover. I like making my own rubber stamped collages, so I chose two wild grass stamps and a butterfly, and stamped them all with the same brown dye ink. I like the brown on the cork—it gives a nice, natural look that almost appears to be burnt into the surface.
To assemble the book, I first glued my front and back covers to the spine, lining them up. Then I trimmed the spine a bit, curving the edges so there wasn't white sticking out at the corners.
Next, I flipped the book open, covers facing up, and applied glue to the entire spine, then refolded it. This keeps the book from exploding open on its own.

When the glue was dry, I opened up the book, and glued a page to each fold of the spine. The thickness of each double fold of the cardstock spine keeps my pages slightly separated, so they will accept dimensional embellishments without adding bulk.