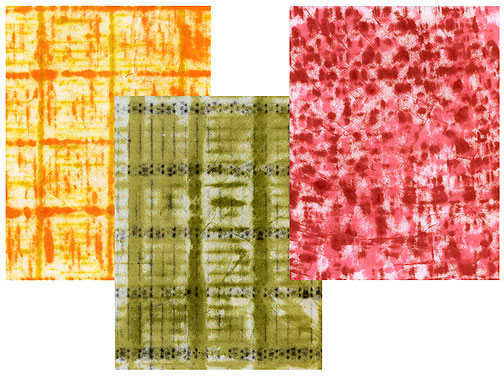 I've been on a make my own papers kick for a while now, so I'm always on the lookout for quick, easy ways to create designs. When I saw the large assortment of summer bamboo placemats roll into my local dollar store this week, I grabbed a few, thinking I'd use them as texture plates. Here's how I made my papers:
I put a placemat on my work table. Any flat, hard surface will work.

I placed a sheet of lightweight bond paper over the placemat, centering it on whatever design it covered.

I swiped Distress inks over the whole piece of paper. Pressing lightly will give a delicate design with less ink, while pressing hard leaves a lot of ink behind.

I removed the paper, and wiped away any leftover ink with a damp paper towel. I also cleaned off any excess between colors if I chose to use more than one per sheet.

I ended up with a big pile of interesting papers in a very short time. It took me less than ten minutes to do all the samples for this article!

Using a bamboo placemat with alternating thick and thin slats, I created the three papers shown above. From left, pink paper swiped with Milled Lavender and Tattered Rose inks, ivory paper swiped with Vintage Photo, and pale green paper swiped with Shabby Shutters and Peeled Paint, then rotated 90 degrees and swiped with Black Soot

A placemat made of small, round skewers produced these papers. From left, white paper swiped with Mustard Seed, white paper swiped with Mustard Seed, then rotated 90 degrees and swiped with Spiced Marmalade, and tan paper swiped with Tea Dye, Vintage Photo, and Walnut Stain.

I was hoping this basketweave placemat would give me a page of tiny squares, but what I got was even more interesting—a sort of tie-dyed look when worked in bright colors, and a nice grungy look when worked with subtle tones. From left, white paper swiped with Mustard Seed, Scattered Straw, and Peeled Paint, tan paper swiped with Antique Linen and Tea Dye, and white paper swiped with Worn Lipstick and Fired Brick.
Remember, Distress inks are water based, so these papers can also be spritzed with water to create even more interesting textures.