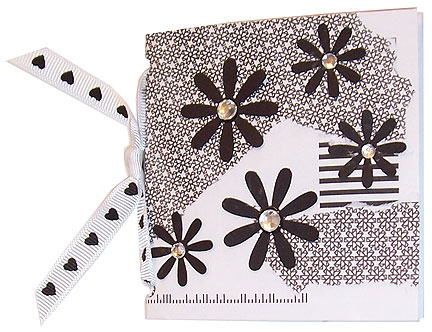 I receive a lot of perfectly usable envelopes in the mail, and it seems a shame to just shred them to use as mulch in the garden. One thing I love to make with envelopes is books, so I decided to try my hand and recycling some business envelopes into a small book with pockets. Here's how this book went together:

First, I sorted through my pile of junk mail envelopes, and pulled out all the ones that had interesting patterns inside. I gently opened them up and flattened them out to turn them back into sheets of patterned paper.

Wow, look at all that free paper I found! This will come in handy later, when I want to decorate the inside of my book.

Next, I found two envelopes that were plain white on the back side, and printed in black on the front. I licked the flaps, and tucked them inside each envelope to reinforce the top edge a bit.

I folded each envelope in half, one with the printing on the outside, and one with the printing on the inside.

I tore pieces from some of the patterned envelope sheets, and collaged over any printing I wanted to cover up.

I punched a few flowers, and used them to decorate the front cover of the book.

I lined up the folds, and punched holes about half an inch from the top and bottom edges.

Tie a ribbon through the holes, and knot at the spine, and the book is ready to fill with goodies. This made a book with four interior pockets, and a center set of pages that just need a few images to complete.