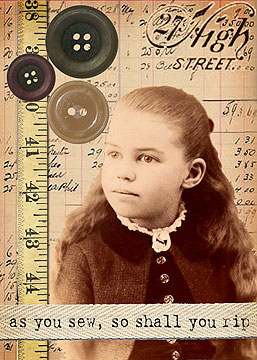 Very simply, digital art is any artwork created in digital form, usually using a computer. In general, digital artwork comes in several flavors:
Completely computer-generated artwork includes any work that begins with a computer, and does not draw on non-digital sources. For example, a fractal created by using software that generates images, or a vector image drawn by an artist using graphics software and a tablet or mouse.
Images that begin with a non-digital source. This might include a digital collage created by scanning photographs, then weaving them together using graphics software. Although the final work has been created digitally, the piece draws on non-digital images.
In my daily world, about half the artwork I create is digital. I use a digital camera to take my photographs. I create almost all the products for Ten Two Studios using Adobe PhotoShop and a scanner. I also incorporate quite a few digitally created elements in my work. For example, almost all the vintage images I use have been scanned, color corrected (or sometimes completely recolored), and resized using my computer, then printed on one of my three printers.
It always surprises me when someone says, "I don't like digital artwork", because at this point, virtually every magazine, 'zine, patterned paper and sticker is created digitally. There are very few items marketed to mixed-media artists, aside from original vintage ephemera, that are not created using a computer.
Equally surprising is the proclaimation that "digital artwork isn't really art". Last time I checked, there was no Make Art button in PhotoShop. Creating digital artwork takes the same time, energy and practice as any other type of art. There are endless books and magazines dedicated to this art form, aimed both at people who create digital art, and those who enjoy viewing it. Digital photography and prints are now presented by major museums and galleries, and many are now beginning to include digital art in their permanent collections.