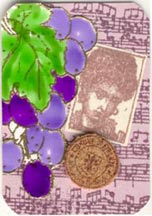 Last year, I was introduced to artist trading cards, or ATCs. These tiny works of art are the size of a standard baseball trading card, and are swapped by artists through online trades or organized trading sessions around the world. They"re also highly addictive, since it's almost impossible to make just one.
ATCs have just one simple rule: they must measure 2-1/2 x 3-1/2 inches, and be flat enough to slide into a standard trading card sleeve. Media, materials, and techniques are totally up to the individual artist, so cards can be rubber stamped, painted, collaged, screen-printed, or created by any method imaginable. ATCs are ideal for those who like small, quick projects, for testing new techniques, trying out new rubber stamps, or just playing. I generally make mine when I've got an idea for a collage or altered book page, and want to see how ink colors, papers and stamp designs look together. The materials are already out on the table and messy, so why not make a dozen ATCs while I'm at it? It's an easy habit to fall into.
ATC examples are not easy to find, but there are a few artists sharing their work online. Art In Your Pocket offers photos of ATCs from a variety of artists active at Nervousness. Empress Dragon provides art galleries filled with ATC work, and also some great tips and templates for those wanting to get started. Both sites offer lists of links to other ATC artist web sites. I also have a few examples of ATCs posted in my own online gallery.
Places to swap ATCs can be equally elusive unless you're already involved in some type of mail art. For the newcomer, the easiest place to find other ATC enthusiasts is Nervousness, home of all types of interesting land mail art objects. For rubber stamp enthusiasts, there is ArtTradingCards at Yahoo. For those who are patient and brave, there's Copy Left, which collects cards until there are enough to make an edition, and then mails them back.
A few ATC tips:
The back of your cards should contain your name, any contact information
you wish to provide, and the number or series of the card. Some artists start numbering their cards with number 1, and just keep going. Others will do series numbering, such as 1 of 7 or 1/7. How you number is totally up to you.
Dimensional embellishment is acceptable, but remember that your finished
card must fit into a standard trading card sleeve. Making cards larger than the established dimensions is poor form, and will make your cards less desirable when swapping.
When choosing stamps and collage materials, remember to scale everything
down a little. The small size of an ATC lends itself to smaller designs that might get lost in larger collages or altered books. Save your littlest items for your ATCs!