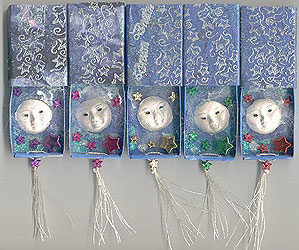 One of my favorite small projects is making matchbox pocket shrines. These tiny treasures are simple and inexpensive to make, but with some thought, can offer a big message in a small package.
At left is a row of dream shrines I made for a swap on Nervousness. Since matchboxes generally come in packages of 10, I usually do five or ten of one design at a time. The extras always seem to find homes eventually.

I started by emptying the matchboxes of their contents, and separating the tray from the cover. The trays were painted with acrylics, using as dry a brush as I could manage, to minimize warping. I used royal blue and white, not very well mixed together, to create a cloud effect.

While the trays were drying, I worked on the covers. I cut a strip of lightweight paper slightly wider than the tray, and the full length of the paper. I applied glue stick to each surface of the matchbox, and simply wrapped the paper around. If the matchbox has dark cover art, it very often shows through lightweight papers, so I just wrap a second time around. Once the glue dried, I trimmed the excess paper away with a craft knife, leaving a nice clean edge.

The covers of these shrines were stamped with silver pigment ink, and embossed with iridescent powder.

Inside each shrine, I made little full moon faces using one of my favorite techniques. I have a collection of little metal charms, which make great casting molds. I simply pressed some Creative PaperClay into the charms and let it dry. The clay contracts slightly when it dries, and the little faces just fall right out. They were painted with an iridescent glaze, and I added eye detail with a fine point marker.

Once all the pieces and parts were dry, I assembled the shrine. The tassle is simply a piece of metallic embroidery floss, which I ran through the bottom of the tray with a heavy needle. Acrylic star beads and a touch of polyester batting went inside the tray, along with a moon face.

The same technique described above was used to make this Asian shrine. I painted the trays red, and wrapped the cover with red handmade paper, then added a piece of Asian text paper, some gold leaf and a peace stamp. The interior of the shrine contains a small photo of a geisha and a fortune, which were printed on my inkjet, a Chinese coin, and a gold bead with pieces of straw sticking out of it to create a sort of minimalistic arrangement. The tassle is black rayon embroidery floss. I did a set of ten of these, each containing a different photo and fortune.