In my local mixed-media group, we've been discussing the idea of leaving art in public places. I decided to make a few things to leave at this month's meeting.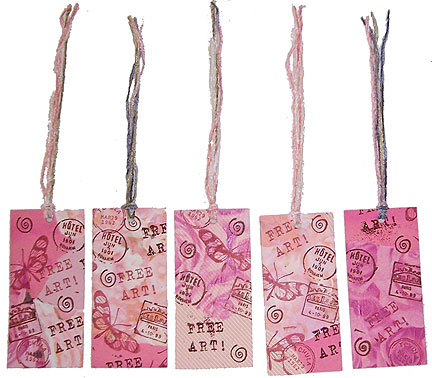 Since our meeting is being held just a few doors down from a very large Barnes and Noble bookstore, I thought handmade bookmarks would be appropriate. My plan is to tuck these into some of the books in the craft section.
I made ten of these bookmarks in about half an hour, using a variation of the Serendipity Squares technique.
I started by sorting through my mountain of scraps. I usually sort by color, and this time, I discovered I had a lot of pink and magenta pieces. I don't usually use pink much, so I don't feel badly about using these scraps up as quickly as possible!

I tore the scraps into chunks, and glued them to a piece of plain white cardstock. These scraps were sort of large. If you prefer to work with smaller pieces, your end result will be even more interesting.

Next, I stamped and embossed over the whole sheet with butterflies and the words FREE ART!

I cut the sheet into ten pieces by splitting it down the middle, then cutting two inch strips. There was just a tiny bit of waste left over.

Next, I stamped a bit more on each piece. I wanted to be sure the FREE ART! message appeared on each bookmark, so I started with that. I also stamped some postage cancellations and swirls.

Each bookmark got a hole punched in the top center to accomodate some fibers.

The fibers were simply looped through the punched hole, and trimmed to an even length.

There ya go—instant bookmarks, ready to be set free at Barnes and Noble!